↑ Top
Top 10 EHR/EMR Electronic medical record companies for hospitals in Africa for year 2023
PDF of the article is available for download
On March 6, 2020, bundles of files holding patient medical records were removed from an Africa hospital by Mrs. Botha, admin staff of the Wellington Specialist Hospital Durban, KwaZulu-Natal, South Africa. As a result of COVID-19, she took the records out of the hospital so she could work on the documents remotely from her home. The paper record included medical billing information, results of tests and prescriptions, doctors' note, patients' medical histories, and diagnoses for 92 individuals, including 40 patients with HIV/AIDS. She set the paper records on the chair next to her seven days later, March 13, as she returned to work. Unfortunately, she left the paper records in the taxi after getting out, and they were never found. The private paper medical records were lost.
Viral news involving missing or improperly handled medical records can damage the reputation of an African hospital. Hospitals across Africa are supposed to be careful, keep up-to-date, secure patient medical records that is readily accessible for continum of care. African hospital obligation includes taking all necessary precautions to guard against theft, loss, or unauthorized access to patient records.
A lot of hospital leadership may not be concerned that they can be held accountable for lost medical records. Patient confidentiality is violated in multiple cases involving the loss of medical record of Africa patients, which is a grave infringement of international medical law.
Patients who had their medical records destroyed felt fear, shame, ridicule, damage, and stress. By using electronic medical records such as Ajirmed, emotional anguish suffered by African patient can be avoided. To prevent these, hospitals in Africa should have robust electronic medical records such as AjirMed in place. What does EMR mean? and what is the current state of Africa's healthcare data management.
Africa's Healthcare Data Management
The Current State of Healthcare in Africa
Similar to many other regions of the world, Africa has seen a dramatic revolution in healthcare data management in recent years. Healthcare data management in Africa is evolving as a result of various reasons, including:
Digital Health Technologies:Digital health initiatives, such as the adoption of electronic medical records (EMRs) and electronic health records (EHRs), are gaining popularity in numerous African nations. These programs seek to digitize medical records, making it simpler for healthcare professionals to access, update, and exchange treatment information across hospitals.
Africa E-Health and M-Health: As more Africa people have access to mobile devices and the internet, telemedicine and mobile health applications have become more popular. Through these technologies, healthcare professionals and hospitals is now able to gather and manage patient medical records and patients can now access care services online.
Health Information Systems: Some Africa nations  have implemented thorough data collecting and analysis tools in their health information systems. These heath technologies can support improved medical resource management, tracking of patient health records, and monitoring of outbreaks of diseases.
Public Disease Surveillance:Better data management has made it possible to improve public health surveillance. Tracking immunization rates, keeping track of public health trends, and responding to disease outbreaks all benefit from timely and accurate data.
Data Interoperability: Measures are being taken to guarantee data interoperability between Africa healthcare systems and hospital institutions. By doing this, medical information may be shared easily while preserving security and privacy.
Healthcare Policy Development: The administration of clinical data is essential to the advancement of health research and policy. The use of healthcare data in African nations to guide public health policies and strategies is on the rise.
The healthcare system in Africa is diverse, ranging from highly established hospital facilities in some areas to institutions with limited infrastructure in others. Long time obstacles have made it difficult for Africa countries to reliably implement electronic medical record software system for her expanding population.
What does EMR mean?
What is EMR used for?
The acronym "EMR" stands for "Electronic Medical Record." A patient's paper medical chart, record and file, which includes their medical history, diagnoses, treatment options, prescriptions, and other pertinent hospital data, is converted into an electronic medical record, or EMR. Healthcare organizations, such as hospitals, clinics, and nurse' offices, use electronic medical records (EMRs) to store, manage, and access patient health records.
These electronic records have a number of benefits for Africa over traditional printed paper records, including enhanced data accuracy, easier access to patient information, and the capacity to securely transmit medical information with authorized healthcare practitioners. By promoting effective clinical workflows, improving patient care, and simplifying the exchange of medical information between healthcare organizations and clinicians, EMRs play a critical role in modern healthcare and Africa should not be left out.
The Function of EMR electronic medical record in Africa
EMR Electronic Medical Record use in Africa
Africa is not an exception to the global change in health medical records management. Systems for keeping medical records electronically (EMRs) have become an essential tool for automating the Africa's healthcare system. Although establishing EMR software systems in Africa presents some challenges, doing so has a number of benefits, including better care, effective care, and improved data for Africans.
Better Care Hospital in Africa can have rapid access to patient data through electronic medical record EMR systems, including medical history, medication information, and test results. This makes treatment decision more informed, and lowers the possibility of medical errors for Africa patients. Due to the ease with which Africa medical doctors can access patient records, Africa patients can experience better care.
Effectiveness Care Hospital medical records kept on paper are inconvenient and prone to loss. EMRs electronic medical record software system decrease paperwork, do away with the necessity for physical storage, and ease administrative works. As a result, Africa hospitals become more effective and have shorter wait times and lower administrative costs.
Improved data EMRs electronic medical record software that use decision-making algorithm such as Ajirmed produce a lot of information that can be used for Africa health programs and better healthcare policy. This information can be used by Africa hospitals across the continent to spot patterns, manage funds wisely, and keep an eye on the wellbeing of Africa populations. It can also be very important when dealing with Africa health emergencies, including pandemics.
Do the African hospitals use EMR?
How many African countries use EMR electronic medical record?
Africa Countries implementing Hospitals Software System or EHR/EMR in Specific Public Hospital

South Africa: To implement EMR systems in public healthcare facilities in South Africa, the South African National Department initiated country electronic medical record program. The objective of this effort is to enhance data management and healthcare delivery in public hospital across South Africa nation.

Rwanda:Another country is Rwanda. The national EMR system that the Rwandan government put in place has improved patient care and data gathering for public health programs in Rwanda.

Kenya: The Kenyan government launched KenyaEMR in collaboration with global allies such as openMRS. An electronic medical record EMR software system called KenyaEMR was deployed at some Kenyan hospitals that have HIV service subscriptions.

Africa countries such as Zimbabwe, Mozambique, Mauritania, and Eritrea are implementing one open source Hospitals Software System or EHR/EMR in speciific medical environments.

Africa Countries willing to implement Electronic Health Record EHR systems

Nigeria: Nigeria, one of the most populous nations in Africa, has expressed interest in using EMRs and EHRs to boost data gathering and analysis, eliminate medical errors, and improve healthcare delivery.
Egypt: Egypt is expected to make a progress in using electronic health records to increase data analysis, improve patient care, and streamline healthcare operations.
Tunisia: Tunisia has been working on healthcare IT initiatives to digitize medical records, enhance patient care, and manage data more effectively.
Ghana: To update its healthcare system and enhance patient care, Ghana will introduce a number of modern hospital management system initiatives, including EMR electronic medical record software and EHR electronic health record systems.
Ethiopia: Ethiopia is attempting to upgrade its healthcare system and has expressed interest in putting EMR electronic health record systems and EHR systems in place. These programs can improve patient care by streamlining healthcare workflow.
Morocco: Morocco is undertaken steps to better manage medical data and digitize patients medical records. EMR electronic health record systems and EHR systems have been incorporated into Morocco Ministry of Health project.
Tanzania: To modernize its healthcare infrastructure and enhance data management in healthcare facilities, Tanzania has also expressed interest in EMR and EHR electronic health record systems.
Senegal: To enhance healthcare services and data management, Senegal has expressed interest in digital health solutions, such as EMRs and EHRs electronic health records.

Africa Countries under monitoring for EMR Electronic Medical Record,or EHR

Other Africa Countries EMRs and EHRs adoption and progress : It is important to note that the adoption and progress of EMRs and EHRs Electronic Health Records vary across Africa, and we are still monitoring developments in the Democratic Republic of the Congo, Uganda, Algeria, Cameroon, Mali, Burkina Faso, Malawi, Zambia, Chad, Senegal, Zimbabwe, Guinea, Benin, Burundi, South Sudan, Togo, Sierra Leone, and Libya.

It is anticipated that these important African countries will invest in electronic health record EHR systems and private hospitals in Africa countries will implement robust electronic medical records such as AjirMed.

These Africa countries may have made substantial progress in digitizing their healthcare systems in order to improve patient care, data accuracy, and healthcare management. The growth of each country in this sector varies due to factors such as government policy, funds, and the availability of technological infrastructure.
Electronic Medical Records have the potential to revolutionize healthcare in Africa countries by addressing longstanding healthcare challenges and improving patient outcome. However, their successful implementation requires a collaborative effort from Africa governments, NGOs, healthcare providers, and the leadership in private hospitals. As Africa continues to develop its healthcare infrastructure, embracing Electronic Medical Records EMR systems such as AjirMed by Ajir Ltd that is easy to use and customize despite Africa EMR challenges can lead to more efficient, data-driven, and patient-centric healthcare across the continent, ultimately improving the well-being of Africans
Top 10 EHR/EMR Electronic medical record companies for hospitals in Africa for year 2023
EMR or EHR software vendors
Picking the best Electronic Health Record (EHR) or Electronic Medical Record (EMR) software system is critical for African private and public hospitals looking to improve care, automate operations, and care management. While the EHR/EMR software you will select depends on your hospital needs, the following are ten EMR businesses, companies or vendors that offer EHR/EMR solutions suitable for your hospital
The top 10 EHR or EMR Electronic medical record system companies for African are:
A significant portion of enquiries from Africa now center on the possible widespread implementations of electronic health record EMR on African hospitals. Ajir ltd's AjirMed electronic medical record system is answering the question. Made with African hospitals' work environments in mind, it has been created to accommodate all tasks and operations carried out within hospitals and completely eliminate the requirement for paperwork. Let's start from there. AjirMed combined patient portal, family management, assets management, reminder emails/SMS, debtors management, surgeries management, unlimited patient records, financial management, laboratory management, pharmacy management, wards management, recruitments management, antenatal, health insurance organizations, and knowledge transfer portal to create one comprehensive piece of software. Direct enquiries to Ajir ltd via email of chat
Ajir Ltd
Business providing AjirMed EMR
Ajir Ltd developed AjirMed, the best Africa electronic health record EHR or EMR software, to minimize massive tree-cutting required for papers, automate unique Africa hospital workflow, in spite of Africa EHR implementation challenges. AjirMed understands that 92% of Africa hospital owners are willing to go paperless but are faced with implementation challenges such poor electricity, low internet, network connectivity, high cost of EHR, and uncompleted EHR trainings because it originally started in Nigeria. AjirMed EHR alleviates the Africa hospital pain points by providing fast and easy to access with low electricity consuming devices that are also easy to use even by non-technical hospital employee.
The comprehensive and interoperable software offered by Ajir Ltd, a well-known producer of EHR electronic health records, is known throughout Africa. It is appropriate for hospitals of various sizes in Africa since it serves both small and large hospitals.
Modern features of Ajirmed including Smart therapy, SMS/email alerts, prescription labels, test results, and post-op reports are all available through AjirMed. The platforms are adaptable and can meet the various needs of hospitals throughout Africa.
Ajir ltd offers Ajirmed EHR systems that are suited to Africa healthcare environments. Their systems are intended to increase clinical workflows and patient outcomes. Ajir Ltd is well-known for its user-friendly interface, cost-effective solutions, and excellent customer service. Ajir Ltd specializes in EHR electronic health record and practice management solutions that are both cloud-based and on-premises. The software may be especially useful for hospitals in areas with poor IT infrastructure and erratic power supply.
Within the EMR, Ajir ltd delivers EHR and revenue cycle management systems. The software can assist African hospitals in improving their financial performance while also improving patient care.
Ajirmed is a hospital software that is exceedingly simple to use and was created with the African setting in mind. AjirMed is the first alternative for African doctors who want to avoid complicated foreign electronic medical record EMR workflows. AjirMed's integration is flawless. Within the next 24 hours, it can be configured and set up for your facility. What's the best part? The electronic medical record can be ordered and paid for in installments. AjirMed eliminates the need to rely solely on memory for the information needed to execute treatments.
Key features and aspects of AjirMed include:
Different tariffs for different HMOs : Ajirmed enables hospitals to manage different tariffs for different HMOs, health management organizations, and private patients within the program without dispute, so that physicians are informed of price variances prior to making treatment recommendations.
Less clicks: Doctors' time is saved by eliminating unnecessary clicks that can interfere with patient involvement. They may concentrate on the patient instead of wasting time clicking through software.
SMS/Email Notifications To ensure that patients get the most out of the care they receive from you or to encourage them in response to certain significant medical occurrences of interest, reminder emails and SMS messages are sent to patients.
Drug-chatting Capabilities Decision-makers are always able to see who administered injections, tablets, and the circumstances surrounding the administration of drugs to patients without the need to fabricate events in order to gain an advantage or cause a disagreement.
Friendly Pricing: Ajirmed can be purchased with no possibility of financial stress. Your monthly cost may be silently increased for four two by the setup price plus first year maintenance.
Waiting-time Management The patient line is efficiently managed by Ajirmed. Africa patients can now arrive and depart on time without hanging around the hallway because they are treated quickly and in a timely manner with Ajirmed.
Secure User Segregation: Ajirmed prioritizes data security and compliance with healthcare legislation, ensuring that patient health information is secure.
All-in-one EMR:For a variety of healthcare facilities, including hospitals, clinics, medical centers, teaching hospitals, and healthcare systems, Ajirmed provides all-in-one EHR software solutions. The software's goal is to organize and digitize patient health records so that authorized healthcare practitioners can quickly access them.
Patient Engagement Patient interaction is highly valued by Ajirmed. Patients can access their health records, make appointments, and contact with healthcare practitioners through the software's patient portals.
Different inpatient and outpatient vitals
Smart Treatment:Healthcare practitioners can make educated decisions about evidence-based therapy with the aid of intelligent decision support tools that are provided by AjirMed's EHR systems, which analyze each patient.
Health Analytics:Ajirmed systems produce a variety of data that can be used for reporting, compliance, and health analytics in Africa. This data-driven strategy helps government and Africa hospital businesses enhance the quality of care while streamlining processes.
Customization:Software from Ajir Ltd. can be significantly customized to fit the specific requirements of various medical facilities. It can be modified to fit particular workflows and expertise.
Training and Support: To ensure that hospital employees can utilize the program efficiently, the implementation of an Ajirmed hospital EMR system often requires little to no training but lots of support services.
Research and Development:Ajirmed continues to make research and development investments to stay on the cutting edge of medical technology by adding advancements like telemedicine and artificial intelligence into its products for Africa hospitals.
Interoperability: Interoperability is crucial in healthcare systems. Ajirmed is designed to facilitate data exchange and interoperability with Africa healthcare systems, enhancing care coordination and information sharing.
Cost of AjirMed EMR Starter plan
| | |
| --- | --- |
| 1styear set-up + maintenance fees | $410.6 |
| 2ndyear renewals + maintenance | $256.9 |
Ajirmed Price Details:There is no monthly fee. No unexpected costs. In addition to an unlimited number of patients, case interactions, and usage, it includes the whole range of features that Ajirmed offers. No fees specific to patients. However, not all hospital sizes fall within the above-described price range. Different configurations are needed depending on the size of the facility, which also has an impact on price. After determining the size of your hospital facility, contact Ajirmed for a quote if you have any queries regarding the price based on the information above for your hospital.
KenyaEMR
Powered by OpenMRS
KenyaEMR, or Kenya Electronic Medical Records, is the abbreviation for an open-source electronic medical record (EMR) system created especially for the Kenyan hospitals subscribed to Kenya HIV medical services. It is a component of a larger initiative to digitize medical records and enhance the Kenya healthcare hospital software system.
The implementation of standards-based electronic medical records systems (EMR) has emerged as a crucial component of Kenya's health systems improvement initiatives. Activities associated in KenyaEMR implementation for HIV-infected patients in care continue to increase in order to support this Africa country deployment of EMRs electronic medical records and to foster country ownership of the KenyaEMR project.
KenyaEMR is a component of bigger initiatives being made in Kenya and other African nations to modernize the delivery of healthcare, enhance data management, and raise the standard of treatment through EMRs electronic medical records.
Key features and aspects of KenyaEMR include:
Open-source EMR Software: KenyaEMR is open-source hospital software, which means that anyone can access its source code without charge. This makes it possible for hospital facilities in Kenya and elsewhere to use, alter, and personalize the hospital software to suit their unique requirements without having to pay license fees.
HIV Services:KenyaEMR was created with the Electronic Medical Record needs and specifications of Kenyan healthcare nurses and doctors. It takes into account Kenya healthcare norms and procedures to make sure it fits into the kenya HIV hospitals.
Disease Surveillance: The Kenyan government's data reporting obligations and numerous public health programs are supported by the KenyaEMR software system. Data analysis for policymaking, monitoring of healthcare indicators, and disease surveillance in this Afrcia country can all benefit from it.
History Taking:KenyaEMR enables medical facilities to electronically handle patient records. In addition to other pertinent data, this involves keeping track of Kenya patient demographics, medical history, treatment plans, and test findings.
Data Security and Privacy: Because healthcare data is sensitive, KenyaEMR probably has security features to safeguard patient data and guarantee compliance with data privacy.
Community Support: Active community support and contributions are frequently advantageous for open-source projects like KenyaEMR. The program can be enhanced and expanded through cooperation between hospital organizations, doctors, nurses, and software developers.
Integration with Medical Software: To build a complete health IT ecosystem, healthcare facilities will need to integrate KenyaEMR with other hospital medical software systems like laboratory information systems (LIS), pharmacy systems, and radiology systems.
Cost associated with implementation KenyaEMR
| | |
| --- | --- |
| 1styear set-up + maintenance fees | $2200 |
| 2ndyear renewals | $2000 |
KenyaEMR Price Details:The hospital software is free. However, costs associated with implementing KenyaEMR were driven by human resources such as cost for EHR/EMR training rather than by the EMR software technology itself. There is  economies of scale when KenyaEMR was put into use.
Cerner Corporation
Provider of Cerner EMR software
The North Kansas City, Missouri, headquarters of the well-recognized healthcare information technology (IT) corporation Cerner Corporation. A pioneer in the provision of electronic health records (EHR) systems, health information technologies, and healthcare management solutions to a variety of healthcare organizations, including hospitals, clinics, and healthcare systems around the world, Cerner was founded in 1979.
The Cerner Corporation provides services to a wide range of clients, including numerous hospitals in the United States and Africa can benefit from it. Their hospital software solutions have significantly contributed to the development of healthcare IT, the digitization of patient medical records, enhanced healthcare delivery, and improved practice experience.
Similar to Ajir Ltd, Cerner partners with healthcare organizations to support projects relating to hospital connectivity, managing population health, and healthcare data analysis, which are essential elements of comprehensive African nations healthcare systems.
Key features and aspects of Cerner
Integrated electronic health record EHR:Cerner is recognized for its extensive and integrated electronic health record (EHR) systems. These software systems for digital health records are made to centralize and digitize patient medical records so that authorized healthcare professionals in a variety of hospitals can access them. The EHR solutions offered by Cerner are designed to enhance patient care, streamline hospital workflows, and promote data-driven decision-making.
Finance Management:Cerner offers a comprehensive range of software solutions for healthcare management that address several facets of healthcare delivery, such as revenue cycle management, population health management, and clinical decision support.
Data Exchange: Cerner places a strong emphasis on interoperability, which enables healthcare companies to easily exchange patient data with other healthcare providers and systems. Interoperability improves data exchange and care coordination across many healthcare stakeholders.
Patient Portals: Cerner provides patient engagement solutions, such as mobile apps and patient portals. These tools enable patients to contact with their healthcare providers, arrange appointments, and access their medical information, encouraging a greater level of patient involvement in their care.
Data-driven Strategy: Cerner's systems produce a vast amount of healthcare data that may be used for Africa population health management, health analytics, and reporting. This data-driven strategy helps healthcare businesses increase the caliber of patient care, cut expenses, and provide better results
Cost of Cerner EMR per user each month
Cerner EMR Price Details: Basic plans with condensed features start at $25 per user per month. Access to additional features is available for a price or through higher tier subscriptions.
McKesson Corporation
Vendor for Mckesson Practice Choice EMR
Major American healthcare provider McKesson Corporation is based in Irving, Texas. John McKesson and Charles Olcott founded McKesson in 1833, and it has grown to become one of the major global providers of healthcare solutions. Pharmaceutical companies, hospitals, pharmacies, clinics, and other healthcare institutions are among the wide spectrum of clients the business services in the healthcare sector.
Africa hospital environment can be improved by using McKesson EMR electronic medical record, one practice and one patient at a time. This EMR software solution assists in supplying people with the appropriate healthcare services, goods, and medications they require by collaborating with biopharma firms, care providers, pharmacies, manufacturers, and more.
Mckesson Practice Choice electronic medical records (EMR) software is created by the top producer of software for healthcare solutions, and it offers hospitals both hosted and server-based EMR electronic medical records system. These solutions have been thoughtfully created to improve the workflow of all of their physicians and healthcare practices.
The McKesson PM software also provides unique services. Its scheduling, billing, and claims processing features can handle both simple and sophisticated needs for smaller clinics as well as hospitals and bigger practices.
Key features and aspects of McKesson EMR company include:
Distribution of pharmaceuticals: McKesson runs one of the world's biggest networks for the distribution of pharmaceuticals. They supply pharmacies, hospitals, and healthcare providers with prescription and over-the-counter pharmaceuticals as well as a variety of medical supplies. A steady supply of drugs to Africa healthcare hospital facilities can be made possible thanks to this broad distribution network.
Healthcare Solutions: McKesson offers a wide range of healthcare solutions and services in addition to pharmaceutical distribution. To increase operational effectiveness and patient care, they include clinical management solutions, revenue cycle management, healthcare consulting, and technological solutions.
McKesson EHR systems:McKesson provides electronic health record (EHR) systems, practice management software, and pharmacy management systems as examples of healthcare information technology (IT) solutions. These tools aid healthcare businesses in streamlining procedures, digitizing operations, and enhancing patient care.
Data and analytics: McKesson uses data and analytics to assist healthcare businesses with decision-making, clinical workflow optimization, and patient outcome improvement. Their data-driven methodology supports population health management, performance benchmarking, and healthcare analytics.
Consulting Services:McKesson offers healthcare firms strategic advice on matters like healthcare supply chain management, financial performance enhancement, and regulatory compliance through its consulting services.
Virtual Healthcare DeliveryMcKesson has been active in creating and supplying solutions to enhance virtual healthcare delivery and patient interaction in response to the expanding significance of telehealth and remote patient monitoring.
Minimizing WasteMcKesson assists healthcare businesses in properly managing their supply chains, ensuring that they get the appropriate goods and medications at the appropriate times while minimizing costs and waste.
Starter plan Cost of McKesson EMR software for hospital
| | |
| --- | --- |
| 1styear | $4,100 |
| 2ndyear | $4,100 |
McKesson Practice Choice EMR Price Details:$4,100 for first provider, $1,450 for additional provider. In order to assist the practice and first provider in adopting the solution, McKesson Practice Choice Connect Implementation for the First Provider offers up to 24 hours of remote project management and remote training services. Additionally, starting on the Commencement Date, this Implementation package includes up to 90 days of McKesson Premier Support
Athenahealth, Inc
Provider of Athenahealth EMR
A well-known American provider of healthcare technology, Athenahealth, Inc. offers cloud-based services and solutions to hospitals, doctors' offices, nurses clinics, and other healthcare institutions. Jonathan Bush and Todd Park established Athenahealth, which has its main office in Watertown, Massachusetts, in 1997 with the goal of streamlining healthcare administration and increasing the effectiveness of healthcare delivery everywhere including in Africa.
Athenahealth EMR streamlined and unified software products for clinicians are made to help them make better clinical decisions while also maximizing financial results, managing the revenue cycle, preventing staffing shortages, and exchanging clinical data more efficiently within the healthcare ecosystem.
Key features and aspects of Athenahealth company include:
Cloud-based Hospitals Solutions: Delivering cloud-based healthcare services and solutions is Athenahealth's main area of concentration. This cloud-based strategy eliminates the need for on-site servers and IT infrastructure by enabling Africa hospital businesses to securely access their services and data from any location with an internet connection.
Digitizing Patient Records:The electronic health record (EHR) system provided by Athenahealth is intended to assist medical practices in digitizing patient records, streamlining clinical workflows, and enhancing patient care. Their EHR system prioritizes accessibility and usability.
Financial FacetsHealthcare practitioners may manage appointments, billing, claims processing, and revenue cycle management with the help of practice management software from Athenahealth. These resources aid in streamlining the financial facets of managing a medical business.
Support & Services: To assist healthcare organizations and providers make the most of their cloud-based solutions, Athenahealth provides support and training services. Onboarding, instruction, and continuing client assistance are all included in this.
Data securityData security and compliance with healthcare standards, such as HIPAA (Health Insurance Portability and Accountability Act), are highly valued by Athenahealth due to the sensitive nature of healthcare data.
Starter plan Cost of Athenahealth EMR software for hospital
| | |
| --- | --- |
| 1styear | $5,388 |
| 2ndyear | $5,388 |
Athenahealth Price Details:Athenahealth offer prices to support Africa hospital success. The pricing structure is in line with your organization's collections.Athenahealth work with you through change whether you're dealing with an unanticipated dip in patient volumes or an increase because Athenahealth succeed when you do.
eClinicalWorks
Provider of healthcare information technology
A well-known healthcare information technology (IT) business with headquarters in Westborough, Massachusetts, in the USA, is called eClinicalWorks. The Navani brothers, Girish Kumar and Mahesh, founded eClinicalWorks in 1999. Since then, it has emerged as a market leader in the provision of electronic health records (EHR) and practice management software to hospitals, clinics, and other healthcare systems.
eClinicalWorks is a lot more than a standard EHR. With tools for patient engagement, population health, and revenue cycle management, today's eClinicalWorks provides unified and integrated healthcare IT solutions for medical professionals of every size and type, including ambulatory practices, urgent care facilities, health centers, hospitals, and more than 50 specialties.
Key features and aspects of eClinicalWorks EMR vendor company include:
Population Health Management: eClinicalWorks provides tools for population health management can help Africa healthcare organizations track and manage patient populations' health, spot patients at risk, and enhance outcomes.
Platform customization:Platform customization is available to fulfill the particular requirements of various Africa hospitals and specialties. Due of its adaptability, healthcare practitioners can customize the program to suit their own needs and workflows.
Starter plan Cost of eClinicalWorks EMR software for hospital
| | |
| --- | --- |
| 1styear | $5,179 |
| 2ndyear | $5,179 |
eClinicalWorks Price Details:For practices with 1 to 9 providers, initial training is provided. For practices with more than nine providers, additional installation costs will be charged. Airfare will be invoiced separately and is not included. Per patient statement and per eClinicalMessenger transaction, fees will be charged.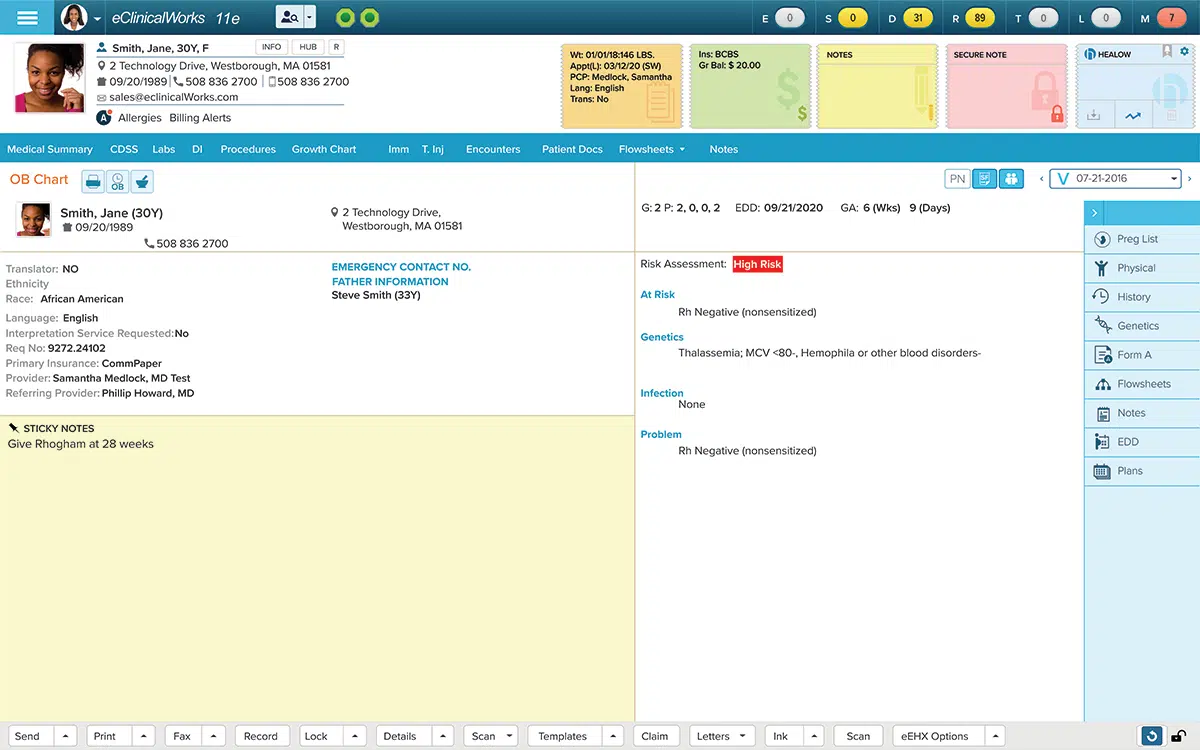 DrChrono
Leader in cloud-based electronic health record EHR
A leader in cloud-based electronic health record (EHR) and practice management software, DrChrono is a healthcare technology firm. Michael Nusimow and Daniel Kivatinos founded DrChrono in 2009 with the goal of streamlining medical practice procedures, improving patient interaction, and making healthcare record-keeping easier.
Dr. Chrono is aware of the variations among practices. Unlike other electronic health record platforms, DrChrono offers a practice management system that is integrated and can be customized to Africa clinic's specific requirements. Create the practice of your dreams, no matter how big or little, and equip it with an EHR system that enhances patient involvement and satisfaction. You will soon be able to avoid a number of unnecessary duties and see a big increase in productivity. DrChrono assist you in overcoming the particular difficulties faced by your practice and clearing the path to your success.
Key features and aspects of DrChrono EMR vendor company include:
Electronic Health Records (EHR): For healthcare providers, such as medical practices, clinics, and individual doctors, DrChrono provides a configurable EHR solution. The platform enables healthcare professionals to better coordinate patient care, manage patient records, and simplify clinical operations.
Support and Training: The business offers support and training services to help healthcare professionals use the platform efficiently. Onboarding, instruction, and continuing client assistance are all included for all client including Africans.
Starter plan Cost of DrChrono EMR software for hospital
| | |
| --- | --- |
| 1styear | $2,988 |
| 2ndyear | $2,988 |
DrChrono Price Details:The beginning strategy enables book  appointments, send reminders, use free-draw tools, and more with basic scheduling and clinical capabilities to grow your practice.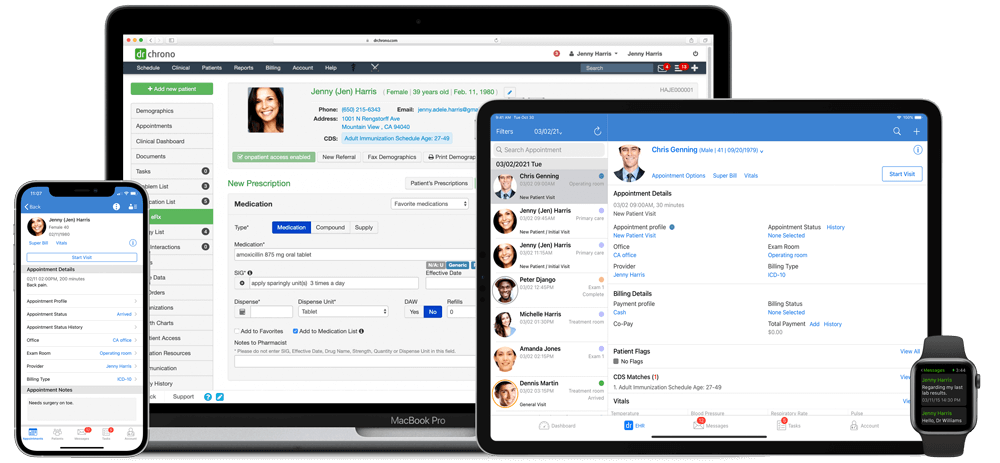 Practice Fusion
Web-based electronic health record (EHR) company
Electronic health record (EHR) solutions from Practice Fusion were largely offered to small and medium-sized medical practices, clinics, and healthcare organizations. Practice Fusion was a web-based EHR supplier. Practice Fusion was established in 2005 by Ryan Howard and Matthew Douglass with the goal of providing EHR software that was both economical and user-friendly to assist healthcare organizations in managing patient information and streamlining clinical workflows. It became well-known for its cloud-based, free EHR solution.
Additionally, Practice Fusion provides services that can benefit all stakeholders in Africa healthcare system, including clinical laboratories, pharmacies, imaging facilities, health systems, and other players in the industry. These collaborators make use of the Practice Fusion platform to coordinate care and create cutting-edge initiatives that enhance patient satisfaction, lower costs, and improve healthcare outcomes.
Another healthcare IT business, Allscripts, purchased Practice Fusion in 2018. The business model of the company underwent adjustments after the takeover, including the removal of the free EHR service. It's vital to note that Practice Fusion have changed price model. As a result of Allscripts' purchase of the company, Practice Fusion is no longer free EMR electronic medical record software system
Key features and aspects of Practice Fusion EHR vendor company include:
Cloud-based EHR: Practice Fusion's EHR system was totally cloud-based, enabling medical professionals to securely access patient information and clinical data from any internet-connected device. As a result, there was no longer a requirement for on-site servers and IT infrastructure.
Free EHR Model: Practice Fusion became well-known in the past on for providing medical practices with a free EHR/EMR software solution, which made it particularly appealing to small and independent healthcare providers with tight resources, Africa hospitals not excluded.
Clinical Documentation: The platform had clinical documentation technologies that allowed medical professionals to efficiently create and manage electronic patient records. It featured functions like treatment plans, medical histories, and progress notes.
Electronic Prescribing:Practice Fusion incorporated electronic prescribing features that let medical professionals send prescriptions to pharmacies electronically, look up drug interactions, and enhance medication management.
Laboratory Integration: The system frequently included laboratory system integration, allowing healthcare professionals to order lab tests, receive results electronically, and keep them in patient records.

Telehealth Features: Practice Fusion built telemedicine capabilities into its platform to provide remote consultations and virtual visits in response to the growing significance of telehealth.
Starter plan Cost of Practice Fusion EMR software for hospital
| | |
| --- | --- |
| 1styear | $1,788 |
| 2ndyear | $1,788 |
Practice Fusion's Price Details:Beginning with $149 for each provider every month. includes client support, training, and installation.Requires annual commitment. Flexible licenses are available for your particular practice needs through Practice Fusion's EHR pricing. You get three signing staff licenses and an unlimited number of non-signing staff licenses for each provider license your practice buys.
Allscripts Healthcare Solutions
Provider of Allscripts electronic health record (EHR)
A well-known American provider of healthcare information technology (HIT), Allscripts Healthcare Solutions is focused on offering a wide range of healthcare software and services to hospitals, physician offices, nurse clinics, and other healthcare organizations. Allscripts, a Chicago, Illinois-based company, has made important contributions to the healthcare ecosystem by helping to improve healthcare delivery, digitize medical information, and promote interoperability.
Africa large healthcare systems, community hospitals, individual physician practices, and specialized nurse clinics are just a few of the different types of clients Allscripts services. A helpful partner for healthcare companies looking to modernize their operations, enhance patient care, and adapt to the changing healthcare landscape is the corporation thanks to its dedication to healthcare IT innovation, interoperability, patient engagement, and telehealth.
ePrescribe, a desktop web tool that enables physicians to online prescribe medication to patients, is a crucial component of Allscripts Professional EHR. The application streamlines the prescription, diagnostic, and dispensing processes and may be tailored to the needs of an organization. Additionally, the functionality for recording interactions and allergies enables doctors to rapidly determine which medications are appropriate for a patient.
Veradigm has replaced Allscripts. Allscripts is now Veradigm after moving its solutions to the Veradigm commercial brand in 2022.
Key features and aspects of Allscripts EHR vendor company include:
Electronic Health Records (EHR): Allscripts provides complete EHR systems that are intended to digitize patient health records, improve patient care, and streamline clinical workflows. Their EHR solutions can be used in both inpatient and outpatient hospital in Africa.
Practice Management: In addition to EHR, Allscripts offers practice management software that aids healthcare businesses in more effectively managing scheduling, billing, processing insurance claims, managing the revenue cycle, and other administrative duties.
Population Health Management: To assist healthcare companies in monitoring and overseeing the wellbeing of patient populations, Allscripts provides population health management technologies. Initiatives for risk categorization, care coordination, and quality enhancement are supported by these technologies.
Starter plan Cost of Allscripts EMR software for hospital
| | |
| --- | --- |
| 1styear | $3,543 |
| 2ndyear | $3,543 |
Allscripts Price Details:For additional information, book a demo with Veradigm.
MEDITECH South Africa
Provider of MEDITECH Expanse EHR software
Medical Information Technology, Inc., or MEDITECH, is a well-known provider of electronic health record (EHR) and health information management solutions to healthcare organizations all over the world. Although MEDITECH maintains its main office in Westwood, Massachusetts, in the United States, it has a global presence and its solutions have been used in a number of nations, including South Africa.
It's crucial to note that depending on the needs and specifications of healthcare organizations in Africa as well as any upgrades or advancements in MEDITECH's product offerings, the specific offers and features of MEDITECH's solutions in South Africa may change. .
Contact MEDITECH in South Africa for comprehensive information regarding the company's offerings
Key features and aspects of MEDITECH South Africa EHR vendor company include:
Electronic Health Records (EHR)MEDITECH provides electronic health record (EHR) systems that are intended to digitize patient health records, streamline clinical processes, and improve patient care. Typically, these EHR solutions can be modified to fit the unique requirements of South African healthcare businesses.
Support and Training: The business frequently offers support and training services to help South African healthcare providers adopt and use its EHR systems efficiently.
Starter plan Cost of MEDITECH South Africa EMR software for hospital
MEDITECH South Africa Price Details:Starting Price, Request a Quote, Request a Quote beginning at $49 monthly for a single user
Types of Electronic Health Record Systems
What are the five 5 main categories of electron health records EHR?
Depending on the particular requirements and preferences of healthcare organizations and providers, electronic medical records (EMRs) are available in a variety of forms and formats. The following list covers popular electronic medical record system types. It is noteworthy that an all-encompassing EMR like AjirMed can operate in any of these scenarios. Various elements, including the hospital context, speciality, budget, and technological infrastructure, influence the type of EMR that is selected. Medical professionals should carefully assess their needs and choose an EMR system that best meets both their clinical and administrative objectives. You can consult Amirmed for advice.
On-Premises EMR: EMR that is housed on a hospital facility's own servers infrastructure is known as a on-premises EMR. Patient data can be controlled and secured, but it necessitates a lot of hardware and IT management from the part of the hospital.
Cloud-Based EMR EMR: Third-party service providers are hosting these EMRs in the cloud. Healthcare businesses use the internet to access the EMR software, which eliminates the need for on-site servers and lowers maintenance requirements.
Specialty-Specific EMR: Tailored to the specific requirements of some specializations, taking into account their peculiar charts, tracking systems, treatment schedules, evaluations, and measuring outcome variables.
Open-source EMR: Users of open-source EMRs have access to the source code, enabling developers and healthcare organizations to customize and develop them. KenyaMRS an open-source electronic medical record in one Africa nation is one example.
Government EMR:used by public health organizations and government agencies to manage population health data, track disease outbreaks, and keep an eye on medical trends.
What is difference between EHR and EMR?
What are the five 5 main categories of electron health records EHR?
Both electronic systems for managing patient health information'ÄĒElectronic Health Records (EHR) and Electronic Medical Records (EMR)'ÄĒhave different scopes and functionalities depending on the vendor businesses that make them. Some vendors exclusively offer EMR, but others, like Ajirmed, offer software that can be used for both purposes. The main distinctions between EHR and EMR when used separately are broken out as follows:
Scope:

EMR (Electronic Medical Record): Used by a single healthcare provider or organization, EMRs are computerized copies of conventional paper medical charts. They are normally restricted to the healthcare facility where they are generated and contain patient-specific medical information, such as medical history, diagnoses, prescriptions, and treatment plans.
EHR (Electronic Health Record): EHRs are more thorough and include a patient's medical data from many healthcare providers and organizations. They give a patient a more comprehensive picture of their health by including information from a variety of sources, including hospitals, clinics, laboratories, and specialists. EHRs are made to make data interchange and interoperability between various healthcare settings easier.

Interoperability:

EMR: EMRs are typically not made to make it simple to share data with other healthcare institutions. Within a single healthcare facility, they are mostly used internally.
EHR: Interoperability is a design goal for EHRs. They provide care coordination and continuity throughout the healthcare ecosystem by enabling the secure transmission of patient data between various healthcare providers and organizations.

Accessibility:

EMR: EMRs are frequently only usable inside the particular healthcare facility where they have been installed. Access might only be available to authorized employees of that organization.
EHR: Electronic health records are made to be accessed by patients and authorized healthcare professionals from many places and organizations. To study their health records and engage with their healthcare professionals, patients can access their own EHRs.

Patient Participation:

EMR: The clinical requirements of healthcare practitioners are the main emphasis of EMRs. They don't provide many robust patient engagement tools.
EHR: EHRs frequently contain patient portals and other tools that encourage patients to actively engage with their medical information, make appointments, see prescriptions, and speak with their doctors.

Complete Information:

EMR: These records, which include clinical notes, test results, and prescriptions, provide patient-specific clinical data that is pertinent to the medical practice.
EHR: Electronic health records (EHRs) include clinical, administrative, and demographic data. They might incorporate information from many disciplines, care facilities, and providers, providing a more complete picture of a patient's health..

Reporting and Data Exchange:

EMR: Within the organization, patient care is the main use of EMRs. It could be necessary to introduce extra procedures or interfaces for data reporting and sharing with external entities.
EHR: EHRs enable reporting services for quality improvement, health reporting, and analysis. They also facilitate data sharing with other healthcare institutions.
While both EMRs and EHRs serve as digital repositories for patient health information, EHRs are more comprehensive and interoperable, allowing for the exchange of health data across different healthcare providers and settings in Africa, whereas EMRs are typically restricted to a single healthcare facility and are focused on the clinical needs of that hospital. The choice between an EMR and an EHR for an Africa private or public hospital depends on the specific requirements and goals of the healthcare organization.
References
ehealth Africa (2021). Data Management. Available at: https://www.ehealthafrica.org/data-management (Accessed: 10 Octoober 2023).
Lukman Ismaila. (2023). State of medical data in Africa: A case of Barriers to Science in Africa. Available at: https://www.thedatasphere.org/news/state-of-medical-data-in-africa-a-case-of-barriers-to-science-in-africa/ (Accessed: 10 Octoober 2023).
Mbondji, P. E., Kebede, D., Soumbey-Alley, E. W., Zielinski, C., Kouvividila, W., & Lusamba-Dikassa, P. S. (2014). Health information systems in Africa: descriptive analysis of data sources, information products and health statistics. Journal of the Royal Society of Medicine, 107(1 suppl), 34'Äď45. Available at:https://doi.org/10.1177/0141076814531750.
Adebamowo, C.A., Callier, S., Akintola, S. et al. The promise of data science for health research in Africa. Nat Commun 14, 6084 (2023). https://doi.org/10.1038/s41467-023-41809-2 Available at::https://doi.org/10.1038/s41467-023-41809-2.
Chimezie Anyakora. (2023). 6 Leveraging data for healthcare innovation in Africa. Available at: https://businessday.ng/columnist/article/leveraging-data-for-healthcare-innovation-in-africa/ (Accessed: 10 Octoober 2023).
Peter Garrett and Joshua Seidman. (2011). EMR vs EHR 'Äď What is the Difference?. Available at: https://www.healthit.gov/buzz-blog/electronic-health-and-medical-records/emr-vs-ehr-difference (Accessed: 10 Octoober 2023).
Mimi Polner, Kelly Main. What Is An EMR? Everything You Need To Know. Available at: https://www.forbes.com/advisor/business/software/what-is-an-emr/ (Accessed: 10 Octoober 2023).
Leona Rajaee. (2023). An Overview of EMR: Meaning, Benefits & How They Differ From EHRs. Available at: https://www.elationhealth.com/resources/blogs/what-is-emr (Accessed: 10 Octoober 2023).
Practice Fusion. (2021). EHR (electronic health record) vs. EMR (electronic medical record). Available at: https://www.practicefusion.com/blog/ehr-vs-emr/ (Accessed:10 Octoober 2023).
Akwaowo CD, Sabi HM, Ekpenyong N, Isiguzo CM, Andem NF, Maduka O, Dan E, Umoh E, Ekpin V and Uzoka F (2022) Adoption of electronic medical records in developing countries'ÄĒA multi-state study of the Nigerian healthcare system. Front. Digit. Health 4:1017231. Available at:https://doi: 10.3389/fdgth.2022.1017231
Odekunle, F. F., Odekunle, R. O., & Shankar, S. (2017). Why sub-Saharan Africa lags in electronic health record adoption and possible strategies to increase its adoption in this region. International journal of health sciences, 11(4), 59'Äď64.
Williams, F., & Boren, S. A. (2008). The role of electronic medical record in care delivery in developing countries. International journal of information management, 28(6), 503'Äď507. https://doi.org/10.1016/j.ijinfomgt.2008.01.016
Akanbi, Maxwell & Ocheke, Amaka & Agaba, Emmanuel & Daniyam, & Okeke, Edith & Ukoli,. (2011). Use of Electronic Health Records in sub-Saharan Africa: Progress and challenges. Journal of Medicine in the tropics. 14. 1-6.
Kavuma M The Usability of Electronic Medical Record Systems Implemented in Sub-Saharan Africa: A Literature Review of the Evidence JMIR Hum Factors 2019;6(1):e9317 Available at: https://doi.org/10.2196/humanfactors.9317
Tech Point (2023).Electronic health and medical records can improve healthcare in Africa, but there are obstacles to their widespread adoption. Available at: https://techpoint.africa/2023/02/13/electronic-medical-health-records-africa/ (Accessed:10 Octoober 2023).
Source Forge (2023).Electronic Medical Records (EMR) Software in Africa. Available at: https://sourceforge.net/software/electronic-medical-records-emr/africa/ (Accessed:10 October 2023).
AjirMed EMR (2023).The best 7 electronic medical records EMR for Nigerian hospitals in 2023. Available at: https://ajirmed.com/the-best-7-electronic-medical-records-emr-for-nigerian-hospitals.electronic-medical-records-emr-nigeria (Accessed:10 October 2023).
Data Magazine (2023).12 Most Innovative Electronic Health Record (EHR) Startups & Companies (Nigeria). Available at: https://datamagazine.co.uk/12-most-innovative-electronic-health-record-ehr-startups-companies-nigeria/ (Accessed:10 October 2023).
Tem Dev (2021).9 Major Types of Electronic Health Record Systems. Available at: https://www.tempdev.com/blog/2021/12/12/9-major-types-of-electronic-health-record-systems/ (Accessed:10 October 2023).
Samikshan Sarkar (2023).Types of Electronic Health Record (EHR) Systems. Available at: https://www.selecthub.com/medical-software/ehr/types-of-ehr/ (Accessed:10 October 2023).
Wheel (2020).Types of EHR Systems. Available at: https://www.wheel.com/companies-blog/types-of-ehr-systems (Accessed:10 October 2023).
Medesk .Electronic Health Record System Types. Available at: https://www.medesk.net/en/blog/electronic-health-record-system-types/ (Accessed:10 October 2023).
Hanna Skryl .HOW TO BUILD A CUSTOM ELECTRONIC HEALTH RECORDS SYSTEM. Available at: https://vilmate.com/blog/ehr-system-development/ (Accessed:10 October 2023).
Wikipedia .Electronic health record. Available at: https://en.wikipedia.org/wiki/Electronic_health_record (Accessed:10 October 2023).
Kathy Haan, Kelly Main (2022).EHR vs EMR: What's The Difference?. Available at: https://www.forbes.com/advisor/business/software/ehr-vs-emr/#:~:text=The%20main%20difference%20between%20EMRs,EMR%20for%20diagnosis%20and%20treatment. (Accessed:10 October 2023).