↑ Top
Solutions to Electronic Health Record EHR software system implementation challenges for hospitals in Nigeria in 2023
PDF of the article is availabel for download
Over the past ten years, the healthcare sector has been significantly affected by the digital revolution. Hospitals are replacing physically storing patient information in files and cabinet folders with electronic health record (EHR) software. One of the significant changes in the computerization of the healthcare workflow is the complete switch from the paper-based system to hospital EHR software. In addition to digitizing manual hospital procedures and offering useful answers, the adoption of hospital EHR software also presented certain challenges that require solutions.
The difficulties of using electronic health record in Nigeria as a developing economy a will be covered in the following piece, along with potential solutions.Going back to paper records after spending time and money to purchase and deploy an electronic health record (EHR) is not a good idea. Click here to read how to circumvent the Nigerian EHR software deployment problems on your own without reading about the challenges.
Introduction
5 challenges that hospitals in Nigeria will need to address in terms of implementing electronic health record EHR software system
The proper adoption of an electronic health record (EHR) system has enhanced care coordination in nations like the United Kingdom and America. The electronic health record EHR software system is continuously accessible to 95 percent of hospitals in the United States and 86 percent of NHS hospitals in the United Kingdom on a daily basis. It is really regrettable that a number of constraints in developing nations limit the efficient adoption and implementation of hospital EHR software. Although there has been a slight increase in EHR system purchases in some developing economy over the years, many of the hospitals in these countries with software licenses are still having trouble putting this technology into work. Lack of reliable electricity, internet connectivity, network at various terminals within the facility, lack of funds to maintain an EHR software and inadequate staff training are just a few of the challenges related to implementing electronic health record in Nigeria. Compatibility, data security, record transfer, and IT staffing limitations are also seen as challenges by some men of opinion.
Some of the most renowned hospitals in developing countries with massive buildings, significant public funding, or significant private sector investment now employ the electronic health record EHR they bought for aesthetic purposes or use their hospital EHR software for a short time after acquisition. Given that they have good network connectivity, constant energy, and computers from government fund, you would be shocked to see their employees carrying paper files up and down stairs. They had abandoned the software due to implementation challenges because, the software implementation made their task take longer. They maintain that they will eventually find a better solution to the numerous issues that arise when utilizing the white elephant EHR program. The hospital management is concerned, cautious, perplexed, and skeptical whenever any EHR installation troubleshooting is suggested. Despite the high cost of purchasing the software, they have not seen the EHR system in use for daily operations. Contact or book EHR demo with one of the best EHR vendor if maintaining an EHR is tough for you in terms of renewal cost and training..
Work of a Hospital EHR software in Nigeria in the year 2023
What is the use of an EHR system for hospital?
An EHR Nigeria software such as AjirMed works as a digital form of patient's paper record in real-time, instantaneous note taking, concurrent broader view and speedy access to patient medical treatment information to authorized hospital employees for informed decision for continuum of care. EHR software in hospital has the ability to increase efficiency in care quality and coordination while easing the burden on employees' memories. EHR systems give the doctor and other healthcare professionals information in formats and amounts that are not feasible with paper records. Care providers can view updates as they are entered for everything from the collection of vital signs to the history of drug use and encounters.
Electronic Health Record EHR system for hospitals works to offer extra advantages, including:
SAVING SPACE - Eliminating paper documents frees up hospital space.
DECISION - Integrate data from various sources to make decisions based on evidence for Nigeria hospital
SUGGESTIONS - Suggest treatments based on the characteristics of patients using Artificial Intelligence AI
ENGAGEMENT - Ability to schedule appointments and expansion of doctor-patient connections in an hospital system
REMOTE ACCESS - EHR hospital software makes outreach medical missions more possible and convenient
PRODUCTIVITY - Comply with Nigeria government records requirements and corporate goals for medical practice
LOWER EXPENSES - Lower expenses by reducing paperwork, increase revenue as low-cost technology for hospitals
REMINDERS - Custom SMS, weblinks, online registration and email toward clinical system task fulfillments
SECURITY - Restriction of access to health records except as allowed by job role specified in the hospital EHRs
Advanced Countries compared with Africa in electronic health record implemetnation?

| # | Country | EHR Usage %(Willingness) |
| --- | --- | --- |
| 1 | Norway | 98 |
| 2 | Netherlands | 98 |
| 3 | United Kingdom | 97 |
| 4 | New Zealand | 97 |
| 5 | Germany | 84 |
| 6 | France | 87 |
| 7 | France | 87 |
| 8 | Nigeria | - (96.53) |
| 10 | Kenya | - (86.9) |
| 11 | Ghana | - (54.1) |
What are the 5 major Challenges of EHR implementation in Nigeria in the year 2023
Factors that may impede EHR software in Nigeria
Because of colonial domination, Nigeria now has the prevailing system of health records. We don't have access to historical patient medical record materials that were in use before the British conquest, and we don't understand their nature or how they relate to our current Nigeria hospital condition. Traditional medicine predated colonial authority, and it was the primary form of hospitals in Nigeria. Sadly, there are no written records accessible today by current professionals of patient medical record system or methods for accessing them whenever it is needed. And when we started using electronic health record in Nigeria, the colonial power still continues to significantly influenced the development of electronic health record for Nigerian. They did build health record for Nigeria, through importations with consequent advance effect on Nigeria economy.
We must also keep in mind that foreign software was used to computerize some government hospitals in Nigeria. Additionally, some large private hospitals had a patchwork deployment of EHR system that doesn't reconcile even with simple third-party applications. Electronic health record was introduced in all of Nigeria facilities by foreigners based on foreign medical workflow since they were incompatible with Nigerian hospitals and difficult to use. The well-organized EHR found in Nigeria that cannot be used in Nigeria was being dumped by these hospitals by the end of the following week after implementation. With the exception of the imported electronic health record EHR software, hospitals in Nigeria, including both public and private ones, continued to operate as usual.
While this is happening, other nations, particularly industrialized ones, continue to profit from properly implemented electronic health record EHR. We are in the dark, perplexed, and on the verge of returning to the unknown past of sloppy health records for hospital patients without giving the repercussions any thought. The majority of Nigerian patients who could hold practitioners accountable are unaware of their rights. Nigerians seeking medical care abroad are sometimes unable to get a complete record or health histories of the treatments they received locally for continuity of care and collaboration abroad. Do you long for a remedy? Or Is there any solution you want to speak about, contact ajirmed representative here
What are the challenges of Nigeria electronic health record EHR?

| # | EHR CHALLENGES | EHR SOLUTIONS |
| --- | --- | --- |
| 1 | Limited Electricity | Add Low Power Gadgets ⇲ |
| 2 | Poor Internet | Switch Internets ⇲ |
| 3 | Local Connectivity | Contact Network Admin ⇲ |
| 4 | Uncompleted Training | Develop Training Plan ⇲ |
| 5 | Under-funding | Have a Budget ⇲ |
After talking about the history of health record in Nigeria and how we get to where we are right now, let's start by reviewing the five 5 main challenges Nigeria EHR implementation faces. The 5 challenges of EHR implementation in developing countries are lack of:
1.

Lack of Electricity
Poor electricity as a reason for lags in EHR software implementation in Nigeria

The systemic underdevelopment of poor nations due to the lack of dependable, inexpensive, and constant electricity has hampered the implementation and use of electronic health record, causing annual losses, low health outcome, and low economic output in Nigerian hospitals. Hospitals in Nigeria have the worst access to electricity in the world, with nearly two thirds of hospitals lacking reliable electricity.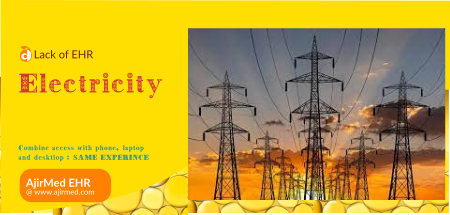 Without reliable power, hospitals experience excruciating operational challenges, reduced care coordination efficiency, and reverting to paper records. It is impossible to access vital medical services provided inside EHR system such as e-prescribing, telemedicine, and e-inventory without electricity. Lack of electricity also restricts the growth of medical clinics and hospitals in Nigeria, leading to low healthcare development, brain drain and high running cost to fueling generators. Despite the national and international financial assistance given to Nigeria to strengthen energy production and distribution, there hasn't been the long-awaited increase in electricity by electricity distribution companies (DISCO) that Nigerians hospital administrators have been hoping for. The most frequent occurrence is the national grid's breakdown, causing suffering and death of healthcare for average Nigeria.
2.

Lack of Internet
Internet as a barrier to implementing hospital EHR software in Nigeria

In terms of global internet speed, Nigeria comes in at position 151. Only a little more than half of Nigerian hospital facilities have access to fast internet. Medical staff members can only collaborate easily by logging into the EHR system if there is connectivity. Doctors and laboratory scientists discuss their findings in complete detail via internet, while doctors also communicate tasks to nurses, patients, and other providers. They combine data and inputs from several sources to provide a bigger picture of the patient record. The reception allows for remote access to appointment calendars and booking by and for patient through internet. Medical professionals are more than glad to give the best care possible now that electronic health record HER are a regular part of daily medical workflow.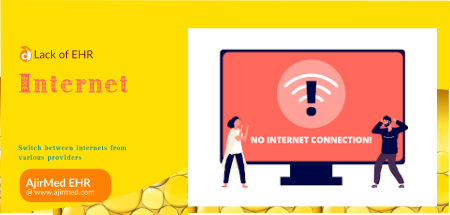 We expressed our serious worry for the hospitals in Nigeria, where data subscriptions are expensive, access is limited when data is not shared with all employees, and internet connectivity is unreliable. The irregular use of electronic health record EHR in Nigerian hospitals is a result of slow Internet connectivity or limited access at hospital locations. The average internet speed worldwide is 7.2 Mbps, but we only have access to about 3.9 Mbps in Nigeria, and if the hospital PCs are in a remote area, the internet connection will likely be even worse. Hospital leadership may experience pressure, annoyance, and stress as a result of slow internet. Without network, employees will find it difficult to open the hospital EHR software.
Companies that sell electronic health record EHR rely heavily on hospitals' experience with the speed of internet. Electronic health record, or EHRs, are dependent on the Internet for successful performance; otherwise, productivity decreases and patient care, treatment entry, and billing procedures may be delayed. AjirMed is best EHR software for hospital, one that is responsive, works offline and out-perform standard hospital EHR software?
3.

Lack of Connectivity
Lack of connectivity hinders the implementation EHR software in Nigeria

An in-hospital premises connectivity by hospitals that want to send medical information locally just within their own premises and have a complete control over the actual physical connections often have connectivity challenges in Nigeria that proved hard to overcome. Having a competent network administrator personnel is very important should normally resolved this. However, there is ongoing competition for networking professionals in many sectors since software is changing the jobs of lawyers, accountants, engineers, scientists, and manufacturers. A scarcity of network staff affects 83 percent of hospitals in industrialized countries or 93 percent of hospitals in developing nation like Nigeria. When qualified network administrators are in short supply and want to work for large corporations outside of Nigeria, the healthcare sector does not always have the necessary incentives to draw them in.

A networking business company should be hired in addition to buying an electronic health record if you want to host your EHR with your facility, or they could inquire if the EHR vendor can try their luck if you don t want cloud-base hospital EHR software. The network administrator, not the EHR vendor, oversees the hospital's local network and is in charge of setting up, maintaining, diagnosing, and upgrading the server software and hardware parts that make up the network infrastructure. Outside your hospital, there is no access to treatment information.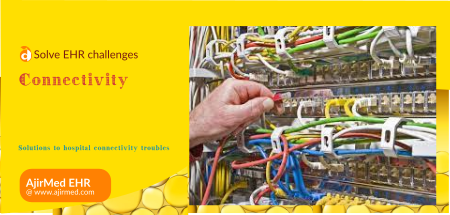 The cost of hardware and equipment, additional hospital space, and labor are all necessary for on-premises local connectivity. The question is how many Nigeria hospitals can afford this. Even then, there are no guarantees that the data will be recovered in the event of a virus attack or other disaster. You need to plan appropriately for threat protection. No matter how much redundancy your hospital server has, you'll still need a network hard drive, a replica server, or both to back up hospital databases and files.
Unfortunately, a local network that previously performed adequately for your hospital may later become annoying. You need a readily available network monitoring team and adequate scalability management system because your database could grow, database performance may slow down, a malfunctioning switch port may result in traffic overload, and your database has become larger. Nearly everywhere in your hospital may have appropriate on-premises network signal strength, but there is a chance that it won't exist at all in certain crucial locations. The layout and construction of your hospital can lead to weak connections, where signal strength that was once adequate can subsequently become arbitrary. A few things can interfere with local connections while others can block certain frequencies. You may need to maintain regular touch with anyone who assists you in connecting on-premises in addition to your EHR vendor contact. For certain small and medium hospitals, this may be very costly.
What we mean by "closer monitoring" is this. A network cable may get snipped or damaged. Unintentionally removing and disconnecting cables from a switch is possible. It could take some time to locate the issue along a cable that crosses the ceiling. You may determine that using an on-premise EHR is a terrific option for a variety of reasons. Top EHR software for hospital such as AjirMed EHR offers on-premises as well as cloud-base EHR system connectivity regardless of the circumstance.
Having best EHR software of your chosen connectivity scenario will greatly streamline your hospital's operations. Automation becomes a more affordable choice as a result, giving you more time to devote to your primary tasks and the care of your patients in your hospital.
4.

Lack of Training
How lack of EHR trainings affect software implementation in Nigeria hospitals

One of the most crucial components of a successful implementation of an EHR is training. Find out precisely what training is required for the implementation of the hospital EHR software as well as what sorts of training the EHR provider can offers before you buy the electronic health record EHR is important. Only purchase the EHR if your facility is prepared to finish the purported training. Unfortunately, some HER software requires a lot of time, extensive training, and resources, which your hospital might not have. Use one of the top EHR software for hospital that is simple to use, easy to understand, whether or not you have time for much training to ease certain EHR implementation stages.

No matter what position you hold in the hospital, there will always be people who are opposed to the positive changes that EHR implementation brings. Whether it's through verbal or non-verbal non-cooperation, they may prefer to continue to use paper records system and argue that there is no need to switch to electronic health record system. As a leader in a healthcare facility, you should be prepared to handle such resistance. Have a productive ERP training plan.

The majority of healthcare workers are not tech literate. They required a straightforward, user-friendly EHR. It is crucial to pick an EHR whose features do fit the needs of the hospital. Employees rapidly notice that the features of the ERP systems do not easily comply with the hospital's workflow and may not be as willing to become familiar with it if a chosen HER software resulted in a poor match.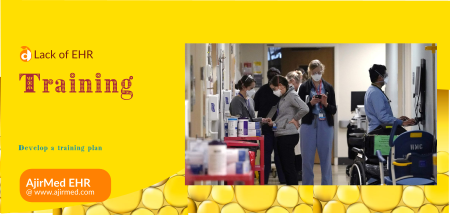 Employees may have negative past experiences with EHRs outside of your institution, which could lead to bias. Because they were not a part of the team entrusted with selecting an EHR in the hospital, some healthcare professionals are resistant to HER software. Relationships already established with EHR team members might potentially influence their cooperation successful implementation of EHR system. If they perceive that their employment is in danger or have not received the necessary training, many staff members perceive the new EHR system as a threat.
If hospital procedures did not integrate well with the EHR system, if it is necessary to modify staff members' current work routines in order to adopt the EHR system, or there would be a significant redistribution of tasks and responsibilities following the introduction of the EHR system, training may not be conclusive. Staff will quickly stop using it if they feel intimidated by the requirement to learn new skills in order to use the new EHR systems. When someone is afraid or doubts their ability to learn these new technology, they may not cooperate during any stage of implementation, including training.
The implementation of the EHR system brings about an equitable division of duties within a hospital, which poses a threat to some people. Internal political conflicts may have contributed to the failed training for the EHR system. Long-term implementation failure may result if some staff members used the EHR system implementation to unlawfully advance their positions within a hospital.
5.

Lack of Funding
Lack of funding as barrier for hospital EHR software implementation in Nigeria

Much of hospital EHR software implementation challenges have been blamed on the poor funding of the Nigeria's health sector, as government expenditure on the sector has constantly fallen below the benchmark set by the African Union. Yearly, Nigeria population increases by 3% on the average. However, Since Nigeria return to democracy in 1999, less than 5% of the federal government's budget is allocated to the health sector. Underfunding has a negative effect on every healthcare innovations in Nigeria.

Even though private hospitals in Nigeria account for 67% of all annual national healthcare spending, investment financing is not much drawn to them as it should be because the bulk of private hospitals struggle financially due to lack of ease of doing business. The set-up cost is one of the main barriers to the widespread implementation of electronic health record for both private and public hospitals in Nigeria. A typical specialized medical practice will invest thousands of naira (or dollar depending on the location of the EHR software vendor) in the first year of costs to set up an EHR. Remember that not all hospital EHR software will be equally expensive to configure and set up. Whether the whole feature set of the electronic health record EHR is offered for you or not, whether it is an in-hospital EHR or a cloud-based EHR, will affect your first-year set up costs. Make a choice with clear price and best EHR software with opportunity to pay in 4 to avoid having to make another large investment.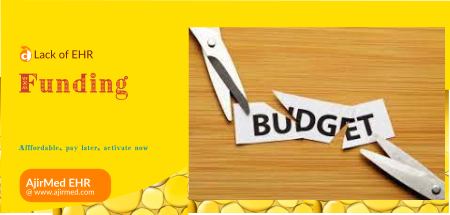 Devices including desktops, laptops, tablets, phones, and accessories like scanners and printers are included in the hardware cost. While some EHRs charge extra for upgrades, interfaces, and modules, other EHRs offer these capabilities for free in exchange for a very nominal annual renewal cost. Depending on the hospital EHR software you chose, training might be expensive but is a crucial part of adopting a new system. Include training costs for instructing all medical employees, from administrative staff to physicians and caregivers in your facility, if you anticipate needing on-site physical training otherwise opt for remote training option if available.
Internet charges are recurring expenses. Your hospital may want to think about purchasing EHR software from suppliers who offer the lowest renewal costs to lower the subscription charge. Empower your IT staff to support the implementation and training process even if your practice only has a small amount of IT demands due to the technical support offered by an EHR vendor.
Let's imagine you've evaluated a number of EHR programs and chosen which ERP to use. You should think about the cost of renewal and whether it is included in the price of your subscription. Regular problem repairs, investments in the EHR solution or to expand the software collection, and R&D to keep the product innovative are usually covered by maintenance costs. When the newest version of the best EHR software for lager or small practice becomes available, it will automatically upgrade you.
Challenges of hospital EHR software implementation in Nigeria: 5 potential solutions
What Nigeria hospitals can do to solve EHR software implementation challenges
Customers of electronic health record EHR have the most trouble implementing them because of a lack of power, internet, connectivity, training, and funding. Unfortunate result of failed hospital EHR software implementation, front-line medical workers must adjust to a new system that seem not to be working as expected, which might endanger the entire hospital operation because they are unable to give the best patient care. Despite the difficulties, hospital leadership recognizes the importance of seeking professional guidance when attempting to address complex problems that are contributing to EHR system failures in Nigeria. Consider implementing the following evidence-based strategies to overcome hospital EHR software system installation obstacles in your Nigerian hospital.
1.

Solution to Lack of Electricity: Use low Electricity Consuming Devices
Access EHR with a combination desktop, laptop, tablets and smartphone

Since desktop computers are more difficult for employees to steal or damage, they are frequently utilized in hospitals in Nigeria to access electronic health record EHR software. They are harder to transport from one location to another, so only employees with a certain level of determination steal them from their stations within the hospital facility. If the laptops that hospitals provide their staff for use with the EHR system get broken after a few months, it is challenging to replace or repair. The person who caused the damage cannot be identified. Due to someone's irresponsibility, the management carries the financial burden to fix the damage laptop, and everyone denies being responsible.

Mobile devices like smartphones and tablets were able to link to top electronic health record EHR systems. The added benefit of smartphones' efficient power usage. When charging to electricity for the same amount of time, the most recent smartphone will provide you with far more power than a desktop computer or laptop. Comparing the CPU of a smartphone to a desktop or laptop, the latter uses less electricity. Compared to laptops and desktop PCs, smartphones and tablets are less expensive.

For a smartphone, tablet, laptop, or desktop PC in a hospital station, the best of EHR today offer the same work experience. Smart phones are made to be used all day long. Smartphones are fully charged in a matter of minutes due to the technology they include. Unreliable electricity can be used to charge mobile devices. When there is no electricity, power banks devices can be used to charge smartphones. Get a modern electronic health record system, like ajirmed, that offers a consistent user experience across all of your devices, has applications for any operating system they could be running, and switches over to a different device whether phone or laptop or desktop if one goes out. This is the fix for the electricity issue that is impeding the implementation of hospital EHR software in Nigeria.
2.

Lack of Internet: Switch between Internet Services from various providers
Benefits of multiple internet for successful EHR implementation in Nigeria

Most desktop and laptop computers can connect to single internet networks using Ethernet. One desktop computer device cannot swap between networks or use several internet providers. There are now a lot more companies in Nigeria offering internet services. Along with voice, mobile network operators including MTN, Airtel, Globacom, and 9mobile also provide Internet services. In addition to numerous alternatives for connecting to Wi-Fi, smartphones typically come with multiple SIM cards that let you switch between internet services from various providers.

Deploy several internets to address the lack of Internet issue. If the primary internet goes down, your devices or the hospital should be able to switch to the secondary internet. When the internet is down, some employees could think about switching to another secondary network rather than inaccessibility.

Top electronic health record EHR, such as ajirmed software, are less internet dependent than normal apps, enabling them to function even when you are offline or have a spotty network connection. This is achieved by leveraging cache page requests and responses, which enables your employee to access previously viewed patient health record information. Consider speaking with your EHR vendor if the hospital EHR software you use doesn't fit the aforementioned requirements. You can as well chat AjirMed representative closer to you about your implementation issues.
3.

Lack of Connectivity: Get in touch with local network administrator
What are the solutions to connectivity troubles for EHR usage in Nigeria?

An on-premises local router for a hospital should be correctly setup since it serves as the hub of the network. The expert network administrator will check that your router's settings are in line with the manufacturer's instructions. Any modifications to the router's settings should be logged together with the name of the person who made them in a network monitoring file. To enable network recovery to previous settings and change reversal, this is necessary.

Make sure you have data backup and recovery protocols in place before hosting your EHR system on a local server within your hospital facility. Copy patient data to a different location. Retrieving the backed-up patient data so that it can be accessed whenever it is required and then restored. Avoiding signal interference, installing a firewall, and installing antivirus are other measures. Always get in touch with your network administrator, especially if it takes longer for your EHR provider to physically arrive at the hospital to help you with you local on-premises server set-up.
4.

Solution to Lack of Training: Develop a Training Plan
How do you train for EHR system in Nigeria?

Develop a training plan that is suitable. By asking your EHR vendor about the training options they provide and their prices, you may select the training option that will work best for you. Do they provide video tutorial sites for remote training? Can your employees pay for on-site training?

Plan staff shifts to accommodate any training techniques you discover to be most efficient for your hospital to ensure that your hospital care team is aware on how to use the electronic health record software. Plan for anyone who won't be able to attend basic training and think about whether you'll have the right individuals on hand to train new hires. Get adequate training so you can use your hospital EHR software without running into any serious issues. The benefits of the new electronic health record could be lost without proper training, which could have a negative effect on the satisfaction of you derived from the electronic health record EHR and make it difficult for staff to do their usual jobs.

Include your IT partners in the training for your hospital EHR software if you have any. Anyone who will be affected by the requirement at your facility is always welcome to attend a refresher course. Make a note of the questions and topics that the staff has trouble comprehending, and ask for more training. Additionally, choose an hospital EHR program with a user interface that is simple to learn. It will facilitate staff members' learning and mastery.
5.

Solution to Lack of Funding: Have a Budget
Hospital EHR software pricing your Nigeria hospital budget

Creating a precise budget for the costs associated with implementing and maintaining the hospital EHR software is the first step in overcoming the funding problems associated with EHR deployment. Establishing a budget range for the system's launch and upkeep is a good idea. Based on the needs of the hospital business, budget for deployment costs, annual or monthly subscription/renewal cost, training expenses, internet subscriptions/network connectivity. In addition to any additional features or updates, take into account the price your EMR vendor will charge. You can get AjirMed EHR, which has a simple, straightforward price and includes all the features you want in your setup and configuration with lowest annual renewal cost. Additionally, if the EHR is expensive, make sure to provide for financial flexibility during the required adaption period. Split payments into 4 monthly payments or pay installment with ajirMed.
Organization of health care delivery in Nigeria
Hospital EHR software pricing your Nigeria hospital budget
The quality of service provided in hospital facilities is directly impacted by the long-standing funding and equipment of the healthcare system. As a result of inadequate policy implementation on the part of governments to successfully address a variety of challenges that have long persisted in the health sector over many years, healthcare delivery in Nigeria is mainly delivered using inefficient manual or paper record health records.
Most of what citizens spend on healthcare is from their own money. Nigeria has more skilled medical workers than the majority of developing nations. In spite of this, given its population, there are less healthcare professionals per unit of population than are necessary to adequately serve the nation as a whole. Unfortunately, the most frequently cited factor is the exodus of health professionals to other nations, particularly in the United States and Britain.
Private hospitals have emerged as Nigeria's most widely used and accessed source of healthcare to get around challenges with public hospital. Over 70% of medical treatments are provided by the private hospitals, and roughly 50% of all doctor's work for private hospitals. Following the federal government's organizational framework, Nigeria's healthcare system is divided into three levels.
The implementation of electronic health record a major step that hospitals, both private and public, can take to safeguard the quality of service despite the difficulties associated with the brain-drain doctor shortage. By using ajirMed electronic health record EHR, it is possible to reduce a number of inefficiencies that arise as a result of short falls in medical personnel requirements.
What is the difference between the EHR and EMR and HMS?
The function of the software system, not what the vendor names it, is what matters
A patient's medical history is seen in an electronic medical record (EMR), whereas their health is seen in an electronic health record (EHR) according to some thought. However, not all EMRs lack all of the features and capabilities of all EHRs, and not all EMRs lack all of the capabilities of all EHRs. It makes sense why some clinicians conflate the terms "EHR" and "EMR." They might base what they do on their experience when they do it. A specific EHR or EMR can manage healthcare records, administrative tasks, and business tasks, further complicating the overall definition. Hospital management systems (HMS) are what this is.
The function of the system, not what the seller of the EHR, EMR, or HMS calls it, is what matters. To choose the best system for your needs, it's critical to understand the distinction between what computer software will perform and your requirements. As a hospital administrator, you are knowledgeable about the state of your hospital facility, the challenges you confront every day, and what is beneficial to your medical practice. The words used to describe the program are not crucial because it has been difficult to distinguish between EMR, EHR, and HMS. No one can agree on a certain feature or function. For the proper care of your patients, you could need software that will direct your nurses and constantly remind them of drug administration guidelines. Because the data are dispersed or impossible to reconcile, your HMO manager finds it challenging to match the treatment of your HMO patient with their bills or claims. Alternately, you desire automation that applies to HMOs as well as all patients.
Or perhaps you are a busy doctor who need access to patient treatment histories when you are gone for a meeting, telemedicine, and e-prescriptions. When you are informed of the laboratory findings where you are, you wish to continue the treatment from anyplace. Find software with the features you require, and then implement it. It is crucial that you identify the issue because it will help you decide which EHR, EMR, or HMS software to use. You don't want to start talking with marketers and become confused by their choice of terms. AjirMed has all the feature of EHR and EMR and HMS and is available for you. Try a demo
References
Shailendra Sinhasane. (2023). Coping with Complexity: Addressing the 10 Key Challenges of EHR Implementation. Available at: https://mobisoftinfotech.com/resources/blog/top-10-ehr-implementation-challenges-and-how-to-overcome-them/ (Accessed: 9 July 2023).
Office Practicum. (2023). 6 Common Challenges in EHR Implementation. Available at: https://www.officepracticum.com/blog/6-common-challenges-in-ehr-implementation (Accessed: 9 July 2023).
Seido. (2022). ERP Implementation Challenges and Risks. Available at: https://www.seidor.com/en-ae/blog/erp-implementation-challenges-and-risks (Accessed: 9 July 2023).
SEYI SOKOYA. (2022). How Nigerians can overcome power supply problems —Gbadegesin. Available at: https://tribuneonlineng.com/how-nigerians-can-overcome-power-supply-problems-gbadegesin/ (Accessed: 9 July 2023).
SEYI SOKOYA. (2022). How Nigerians can overcome power supply problems —Gbadegesin. Available at: https://tribuneonlineng.com/how-nigerians-can-overcome-power-supply-problems-gbadegesin/ (Accessed: 9 July 2023).
This Day Live. (2022). WHY INTERNET CONNECTIVITY IS POOR IN NIGERIA. Available at: https://www.thisdaylive.com/index.php/2022/09/07/why-internet-connectivity-is-poor-in-nigeria (Accessed: 9 July 2023).
Diipo Olowookere. (2016). Top 4 Solutions to Common Mobile Network Issues In Nigeria. Available at: https://businesspost.ng/technology/top-4-solutions-common-mobile-network-issues-nigeria/ (Accessed: 9 July 2023).
Karexpert. (2016). Electronic Medical Record vs Electronic Health Record: What's the difference between EHR and EMR?. Available at: https://www.karexpert.com/blogs/emr-vs-ehr/ (Accessed: 9 July 2023).
Anthonia Obokoh . (2020). These strategies can help fix Nigeria's healthcare system– Experts. Available at: https://businessday.ng/health/article/these-strategies-can-help-fix-nigerias-healthcare-system-experts/ (Accessed: 9 July 2023).
Chukwuma Muanya. (2022). Improving health financing in Nigeria. Available at: https://guardian.ng/features/improving-health-financing-in-nigeria/ (Accessed: 9 July 2023).
Jeff Green. (2023). 5 important areas of EHR training during implementation. Available at: https://www.ehrinpractice.com/five-areas-ehr-training-implementation-236.html (Accessed: 9 July 2023).
Core Solutions. (2023). How to Develop and EHR training for your staff. Available at: https://blog.coresolutionsinc.com/ehr-training-10-best-practices-to-train-your-staff-in-adopting-a-behavioral-health-ehr (Accessed: 9 July 2023).
Core Solutions. (2023). How to Develop and EHR training for your staff. Available at: https://blog.coresolutionsinc.com/ehr-training-10-best-practices-to-train-your-staff-in-adopting-a-behavioral-health-ehr (Accessed: 9 July 2023).
Wikipedia. (2023). Healthcare in Nigeria. Available at: https://en.wikipedia.org/wiki/Healthcare_in_Nigeria#:~:text=The%20federal%20government's%20role%20is,on%20dispensaries%20(primary%20healthcare)%2C (Accessed: 9 July 2023).
Osuhor P. C. (1978). Organisation of health services in Nigeria. Health and population; perspectives and issues, 1(1), 1–11.
MCDONALD, C. (1997). The barriers to electronic medical record systems and how to overcome them. Journal of
Obembe, T. A., Levin, J., & Fonn, S. (2021). Prevalence and factors associated with catastrophic health expenditure among slum and non-slum dwellers undergoing emergency surgery in a metropolitan area of South Western Nigeria. PloS one, 16(8), e0255354. Available at:https://doi.org/10.1371/journal.pone.0255354