↑ Top
Hospital Management Software System HMS for universities in Africa in 2023
What software can bring iimprovement to the operations of university hospitals in Africa?
University and college students represent a distinct demographic with distinctive health disparity patterns. Effective health care service coordination for students is crucial given the rising need for quality education in Africa. For instance, the prevalence of cellphones and the unparalleled access to social media has led to a 70% increase in mental health issues among college students not excluding Africa. Students' health and well-being are enhanced by quality healthcare services supported by contemporary technologies like Hospital Management software System HMS or electronic health records (EHR), which also indirectly enhance students' academic performance.
Care coordination in universities, particularly in the Europe and America, has improved thanks to good EHR software system use. How frequently does it occur in African colleges and universities? A doctor wanted to see a student's previous prescription, treatment history, and results of radiological testing in order to make a diagnosis or ensure continuity of care, but he was miserably unable to find the student health files. The records are either lost or dispersed among several papers.
This occurs frequently in Africa. The University Hospital Management software System is expected to support vindications from accusations of duty negligence made against the medical professionals working in a univeristy hospitals before the management and the society. However, most college and university health centers don't have an HMS software system to properly document the care of a student under their supervision and show that emergency treatment was properly given. Without a university hospital management software system, citizen are unable appreciate how they work to prevent the debility and death of undergraduates in their care.
Families of Nigeria undergraduates, including those of Austin Okafor, Precious Agini, Bruno Chigozie, and Samuel Omolaye, demanded evidence of proper documentation of care by the university medical center to avert the premature deaths of their children. Friends and families of Theodore Kwame Nutuse, Amanor Okine, and Abigael Chesang from Ghana and Kenya  inquired as to whether the university hospital made every effort to prevent these greatest assets of Africa from passing away too soon.
Worse still, the physician-patient ratio in Nigeria, the most populated African country, has reduced from 1:4,000 to 1:5,000 as a result of the nine out of ten (88%) Nigerian doctors who are looking for employment overseas. In spite of the challenges brought on by the doctor scarcity caused by brain-drain, schools are not installing any hospital management software system or electronic health record EHR software system to assure evidence of healthcare services provided to students.
Despite the intellectual and promising output from the majority of African universities, the institutions where these people studied lacked crucial tools for improving the administration of a university health center in particular and the health system for the entire university community.
Introduction:
Hospital Management Software System HMS for Africa
The management of medical, administrative, legal, and financial processes can be greatly improved by the use of hospital management software system software in hospitals and clinics across Africa. Finance, appointments, scheduling, regulatory compliance, stock, and staffing operations are all automated by hospital management software. These software programs integrate the financial, clinical, and operational aspects of a medical practice, allowing hospitals to improve workplace efficiency and cut costs. Electronic Medical Records EMR software, Medical Laboratory Software MLS, Medical Practice Management MPM software, Medical Billing and Finance MBF software, and Electronic Health Record EHR software are all connected via the Hospital Management software System (HMS) software. In reality, some HMS software like AjirMed  Hospital Management software System combines the aforementioned software with a number of other forms of hospital automation-related software and it is tailor-made for Africa.
Regardless of the challenges, AjirMed support staff assist full-time hospitals across Africa, especially university hospitals, in obtaining and implemementing their Hospital Management Software HMS software System, support the revenue cycle, and expand their medical practices.
Why Africa Universities Hospitals should implement hospital management system HMS in the year 2023
7 benefits of hospital management system for school hospitals
The most crucial elements of African society are its students. One of the key pillars sustaining Africa's development will not be accomplished without a suitable university education. University education is one of the most significant investments Africa can make in its growth. More than 15 million African students are utilizing their formative years in the continent's about 1200 universities to acquire critical knowledge, necessary skills, and life experiences.
African universities have been asked to explain how they contributed to any good improvements in the continent's society. Universities serve as the launching pad for good changes, and students are the spearhead of these improvements. Universities have played a significant role in a number of medical breakthroughs and have contributed to the adoption of pertinent workplace process automation technologies, such as the central University Registry System (URS). This article will concentrate on a topic where universities in Africa can significantly impact the health of their students.
African students should be concerned if they witness their doctors taking notes during appointments on paper rather than a computer, tablet, or smartphone. The university hospital in Africa has taken far longer than other continents to transition from paper-based to digital systems. Providing physicians with quick access to all the information they need for improved diagnoses and outcomes for patients should be a goal for the administration of African universities, both public and private.
The administration of student patient health at all levels, including outside the institution, depends on the medical data of students entered into the hospital management software. These are the 5 reasons for the university administration, doctors, students, staff, and the wider university community to switch to a healthcare management software software system.
Accurate and up-to-date information
Why is it important to get the most up-to-date information from a patient hospital record?
Data accuracy enables doctors in the university hospital to be aware of a patient's history, trends, complications from the past, present circumstances, and expected reactions to proposed medical treatment. Hospital management software system such as AjirMed HMS provides data accuracy and enables prompt patient care in the most effective and appropriate manner at the point of care.
In order to be sure that the data presented is up to date when treating a patient, doctors must use a reliable software system. Reliable medical records are offered by the hospital management software system. When treating any student, it is critical that a doctor can rely on this information anywhere anytime.
Medical staff are better equipped to provide students with the greatest care when they have access to complete and accurate medical records made possible by Hospital management software system HMS software . Each and every detail is crucial since the accumulated knowledge might aid in diagnosis and treatment of each student.
By connecting and pooling data from a large number of student patient who are categorized by demographic variables in a University hospital, doctors can effortlessly search for trends in the hospital management software system that will help them diagnosing sickness and finding ways to enhance treatments services to the university community. The knowledge can be helpful in:
learn more about illness causes and dangers
devise university care interventions
create novel treatments for the medical condition in the school, and prevent it
bolster student patient safety
assess policies
The likelihood that a student will receive the desired benefit from treatment increases with proper documentation of patient interactions with every staff in a university hospital, and it also ensures that the care they receive is personalized for each patient. This is made possible by Hospital manamgent system HMS such as AjirMed
Quick access to records
How fast is Doctor access to a patient's health information in HMS?
The primary repository for data pertaining to a patient's medical care is their patient record. Hospitals have made numerous technology advancements, yet the usual patient record for an African student is still kept manually or on paper. On paper, editing a clinical note is messy. There is no searchable dataset. Because of their poor handwriting, some doctors make it tough for nurses to read what they have written. The use of paper patient records necessitates the logging of countless trees.
The deeper knowledge offered by hospital management software systems gives doctors instant access to all the patient-related data they want. Depending on the data structure and the kind of information the doctor requires, hospital management system software aids in producing quick results in the realm of hospital computerization.
By giving medical staff better data access, quicker data retrieval, higher-quality data, and more flexibility in data display, HMS improve the delivery of healthcare. HMS also offers clinical reminders to help with patient care and supports decision-making and quality assurance efforts.
The software for hospital managementsoftware systems restructures workflow procedures related to healthcare. In university hospitals, clinicians have quick access to data that might help with the diagnosis of medical conditions or the creation of effective treatment programs thanks to the Hospital management system software. Patient records, test results, and guidelines are all accessible from the exam room thanks to hospital management system software. Additionally, it might make it possible for hospital professionals to communicate electronically when planning treatments or performing operations on patients who are students.
Hospital management systems software incorporates data and inputs from different sources as they are entered and communicates tasks and findings to staff, patients, and providers quickly. If patients make appointments remotely through student patient portals, they can quickly check the schedules at the front desk. Clinicians can consult with patients remotely and have access to a thorough overview of their medical history from any location thanks to hospital management system software. Drug discontinuance warnings, remote access to patient drug files, access to test findings, and proper note-taking of lifestyle history for preventative care are all available in hospital software.
Patient data sharing has many advantages for both patients and clinicians, including faster information access, improved specialist communication, and access-related peace of mind. Sharing patient data among healthcare professionals can result in enhanced patient safety, better health outcomes, and a more effective treatment.
Doctors can collaborate more successfully to create an extensive, coordinated treatment plan when they have access to a patient's information on the hospital management software system and treatment history. Collaboration among physicians can result in more effective use of resources and improved patient outcomes.
The danger of a delayed or incorrect diagnosis can be decreased by healthcare professionals both inside and outside of university hospital sharing information about patient care. Speed is crucial in emergency situations, where quick access to medical data given by hospital management system software HMS can have an impact on the standard and efficacy of care as well as the level of treatment confidence in the school hospital. University hospital administrations can make sure they have a thorough picture of a patient's medical history, including any pharmaceutical allergies, conditions, or adverse reactions, by allowing the sharing of patient information across approved formats provided in hospital management system software HMS.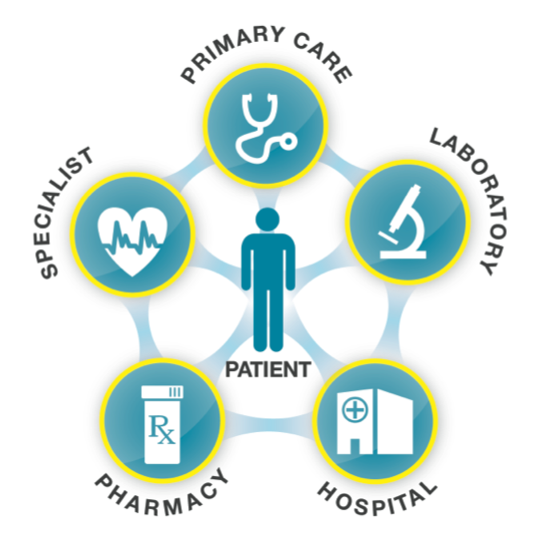 With the very best hospital management system software HMS, concerns about privacy and security voiced when exchanging patient information are addressed. Students need not be concerned that a third party may have access to their private health information or that it might be taken or used inappropriately. best software for hospital management HMS adhere to strict security measures such as IP whitelisting, bot protection, user segregation, access limits, data encryption, and only transmitting data when authorized.
The best hospital management system software HMS must have strong patient privacy and confidentiality protections. Process automation technology in HMS includes safeguarding the private data given to medical providers. It is crucial to choose a system with the highest level of security and digital protection if your university hospital has trouble properly keeping student patient information, both in terms of where vast data quantities can be maintained and making the information easily available. Data on the AjirMed hospital management system software HMS is only accessible to personnel that are absolutely necessary. The levels of password security used by AJirMed to regulate access are exceptional and require significant technological expenditures and work. Excellent levels of password security that restricts access are also present.
Prevent medical error
How can medical errors be reduced on hospital Management system software HMS?
A catastrophic medical blunder occurs in the Africa healthcare system, which is among the poorest in the world and is continually plagued by brain drain. Almost 2 out of 3 of medical errors are the result of terrible to read handwritings among the care team. It is well known that doctors struggle to write clearly, especially Africa doctors. The most prevalent theory seems to be that hasty note-taking and excessive hand use are to fault. Even if someone handwriting was initially good, the amount of prescriptions written each day leads it to deteriorate over time. But occasionally, even when there was no stress, the handwriting was just awful.
The inability of the paper record to combine data from all care teams that treat patients, including primary and secondary care, emergency and outpatient care, and teams treating disparate comorbidities, as well as all ancillary applications involved in providing healthcare, is another factor contributing to medical errors. Insufficient data sharing across therapeutic activities that extends back to the physician and forward to patients is brought on by the absence of or lack of paper information system integration.
Medical professionals know that mistakes happen, and the use of hospital management system HMS is a measure to promote accuracy in all aspects of hospital care. Medical errors are a concern for the majority of clinicians. Medical errors are a serious public health problem in the continent of Africa and something can be done to mitigate the problem. Despite a lack of pooled information regarding the continent of Africa, the prevalence of dangerous prescription pharmaceuticals is well known. According to the scant paper record statistics that are available in Africa, up to one out of every ten patients suffer damage while obtaining medical attention. In hospitals, there is a larger chance of getting hurt and a 20 times greater chance of getting an infection linked to medical care. The most frequently found counterfeit and substandard pharmaceuticals are in Africa paper methods of prescription. It is difficult to determine the cause of errors with paper records and, even if found, to provide a feasible solution that minimizes the chances of a recurrent event.
HMS, or hospital management system software, is a vital tool that can lessen medical errors for patients who are students in African university hospitals. This is particularly true when the HMS offers a tailored experience that incorporates data from all pertinent systems in the delivery system for healthcare. A healthcare provider can guarantee that the most current and correct information is always used in the treatment plan by including a more comprehensive view of the patient's medical record on every communication platform. I'm happy to learn that your university hospital can use Ajirmed HMS on a variety of mobile devices, including smartphones, tablets, laptops, desktops, email, patient portals, internal videoconferences, and telehealth.
Ajirmed hospital management system software HMS customized each user view, whether administrative or clinical, to their function and needs with clear links to more information, thus assisting them in swiftly accessing the crucial data. AjirMed fully integrates all hospital paperwork and manual processes and has artificial intelligence features that can foresee your next words in clinical notes while continuously learning how each doctor and hospital operate. It may update patient information by using a keyboard to provide progressively accurate predictive text.
Improve work-life balance
Using HMS, or hospital management system software to Improve Doctor Work-Life Balance
For African doctors, working too hard is common. African doctors experience physical and mental stress and tiredness as a result of working too hard for too long. Compared to the general population, doctors are much more likely to feel burnout. By assisting in the organization, analysis, and management of the university medical center catering for student practice, HMS is a technology that has the potential to help physicians regain a healthy work-life balance.
The complex requirements of the University medical system, coupled with high levels of administrative paperwork, long hours, and emotionally taxing responsibilities, can leave doctors feeling exhausted emotionally, and depressed. Burnout is a problem for doctors whether they are passionately engaged with their work or underwhelmed by their current role.
Overworking is unhealthy for doctors, but it's also important for patients because exhausted doctors are more prone to make mistakes when treating patients. Since the introduction of the hospital management system (HMS), you are less likely to need to return to the office to handle patients, lab results, referrals, or urgent calls to cover a coworker's shift when you are not in the office. With the help of the hospital management system (HMS), a doctor can work fewer but more flexible hours, from home on some days, and in other ways, achieving a better, more harmonious balance between work and personal life.
The hospital management system is built around work-life balance. With ajirmed, purchasing the system is now simple. Hospital management system HMS has you covered whether it comes to integrating and harmonizing your work with the other facets of your life, working remotely or with less hours, setting up automated systems, or planning your calendar to accommodate the demands of your family. Engage top-level administration to adopt hospital management system HMS in your university and beat the burnouts.
Doctors can have more time thanks to hospital management systems, which free up time from burdensome duties like billing paperwork or documentation. You may set time in your schedule accessible for  Real-Time collaborative RTC and job delegation using the Ajirmed hospital management system HMS, which also makes it simpler to manage your workload.
References
Daniel Ortiz. (2023). The Advantages and Disadvantages of Sharing Patient Information. Available at: https://medtrainer.com/blog/the-advantages-and-disadvantages-of-sharing-patient-information/ (Accessed: 9 July 2023).
HealthIt.gov. (2023). Advantages of Electronic Health Records. Available at: https://www.healthit.gov/faq/what-are-advantages-electronic-health-records (Accessed: 9 July 2023).
Khalid Al-Maskari. (2022). 7 ways EHRs can reduce medical errors. Available at: https://www.hospitalhealth.com.au/content/facility-admin/sponsored/5-important-ways-to-maintain-patient-confidentiality-1425215591 (Accessed: 9 July 2023).
Brother International (Aust) Pty Ltd. (2019). 5 important ways to maintain patient confidentiality. Available at: https://www.medicaleconomics.com/view/7-ways-ehrs-can-reduce-medical-errors (Accessed: 9 July 2023).
Kristen Campbell. (2021). Work Life Balance for Doctors: Planning a Balanced Life. Available at: https://www.dr-bill.ca/blog/career-advice/how-to-balance-work-and-family-life (Accessed: 9 July 2023).